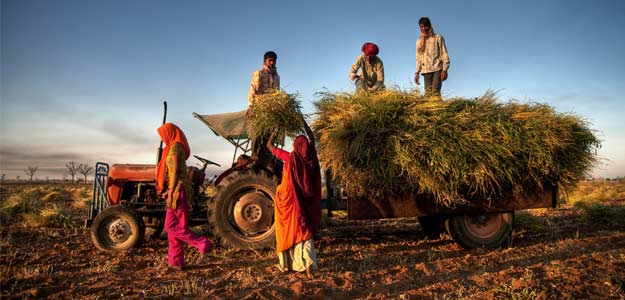 Adequate monsoon rains will help raise agricultural productivity, adding to the country's GDP growth
The BSE Sensex jumped over 400 points, while the Nifty50 index surged above the key 7,800 levels for the first time since January 6 on Wednesday. Traders attributed the gains in stock markets to a spate of positive economic data points released by the government yesterday.
Here are the reasons for the market rally:
1) Forecast for normal monsoon rains, after two back-to-back droughts, is the single biggest trigger for today's rally, traders said. Adequate monsoon rains will help raise agricultural productivity, adding to the country's GDP growth. Agriculture accounts for 14 per cent of India's $ 2 trillion economy. Normal monsoon will revive the farm sector, which has been weighed down by subdued agriculture output and falling farmers' income. The farm sector supports two-thirds of the country's population.
Sachin Shah, fund manager at Emkay Investment Managers, told NDTV Profit that monsoon will be the biggest factor that will set the direction of Indian stock market this year.
2) A revival of the farm sector can boost rural demand, the missing piece in domestic economic growth. Rising rural demand can kick off consumption for a variety of goods such as two-wheelers and boost economic growth. Stocks linked to the farm sector were among the biggest gainers today. Kaveri Seeds rallied over 6 per cent, while fertiliser manufacturer Coromandel International traded 5 per cent higher. Monsanto, Rallis India and Maruti Suzuki were other stocks that witnessed strong buying on hopes of higher rural demand.
"After two consecutive weak monsoons, a normal monsoon will provide much respite to the rural sector… Forecast of above normal monsoon bodes well for boosting rural demand and lowers chances of food price spikes," said Kotak Institutional Equities.
3) Retail inflation eased in March to a six-month low, raising hopes of further rate cuts later this year. Raghuram Rajan, governor of the Reserve Bank of India (RBI), cut policy rates by 25 basis points last week to a more than five-year low, saying he could look for more room to ease if inflation trends stay benign. Analysts say Tuesday's prediction of normal monsoon rains will also help check food inflation.
"We maintain our call for a 25 bps rate cut in 2HCY16 on the back of a benign inflation trajectory and increased chances of a normal monsoon," Kotak said.
4) Output at factories, utilities and mines grew an annual 2 per cent in February, higher than the 1 per cent forecast by economists surveyed by Reuters.
5) A strong rally across global stock markets also boosted sentiments on the Dalal Street. Asian share markets jumped after upbeat Chinese trade data offered hope the economy was stabilising, underpinning both risk sentiment and commodity prices. Shanghai stocks gained 1.9 per cent while Japan's Nikkei rose 2.4 per cent to its highest in eight sessions today.